About Me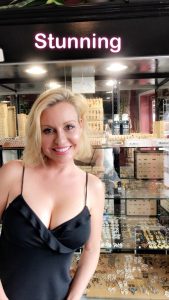 Bronwyn Maddison, the Vice President of Maddison Homes, is an integral part of the company's success, bringing a wealth of knowledge and expertise to the table. With a background in design and a keen understanding of luxury market trends, Bronwyn plays a pivotal role in shaping the vision and aesthetic of Maddison Homes' projects.
Bronwyn's deep passion for design and architecture fuels her ability to create captivating spaces that reflect elegance, functionality, and timeless beauty. She collaborates closely with renowned architects and designers, leveraging her expertise to ensure that each project embodies the highest standards of craftsmanship and innovative design.
As a visionary, Bronwyn has an innate ability to identify emerging design trends and translate them into unique, luxurious homes. Her attention to detail and understanding of the finer points of design enable her to curate exquisite finishes, materials, and architectural elements that elevate the overall aesthetic of Maddison Homes' projects.
Bronwyn's role extends beyond design as she oversees the coordination and execution of the company's projects. She ensures that the vision and design intent are seamlessly translated into the construction phase, working closely with the project management team to maintain the highest level of quality and craftsmanship throughout the process.
In addition to her design expertise, Bronwyn possesses exceptional communication and interpersonal skills. She understands the importance of actively listening to clients, discerning their desires, and translating their aspirations into stunning realities. Bronwyn's ability to connect with clients on a personal level fosters strong relationships built on trust, resulting in remarkable outcomes and satisfied homeowners.
Bronwyn's commitment to excellence extends to sustainable design practices. She is passionate about integrating environmentally friendly elements into Maddison Homes' projects, including energy-efficient features, eco-friendly materials, and smart home technologies. Bronwyn's dedication to sustainability ensures that Maddison Homes creates homes that not only meet the needs and desires of their clients but also contribute to a more sustainable future.
Beyond her direct role in design and project coordination, Bronwyn plays a vital role in nurturing a collaborative and creative environment within the company. She fosters a culture of innovation, encouraging team members to push boundaries, think outside the box, and continuously strive for excellence. Her leadership inspires the entire team to deliver exceptional results and exceed client expectations.
In summary, Bronwyn Maddison brings a wealth of design expertise, a visionary mindset, and a passion for excellence to her role as Vice President of Maddison Homes. Her ability to translate design concepts into stunning realities, commitment to sustainability, and exceptional leadership contribute to the company's success in creating luxurious, timeless homes that surpass industry standards.